Benefits of Servicing your Vehicle at a Dealership
Regularly scheduled maintenance keeps your Honda in great shape for many miles to come. When the time comes to schedule routine service, you could go with a franchised or privately-owned repair shop. But why do that when you could have your Honda professionally serviced at a dealership? Local shops may seem more convenient, but a dealership like Carey-Paul Honda offers a host of benefits you'd be hard-pressed to pass up.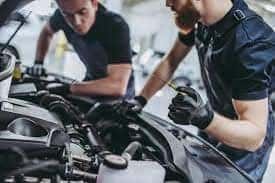 Those benefits start with a state-of-the-art facility. Dealerships equip their service departments with the latest in diagnostic and repair equipment, giving their technicians the tools needed to perform advanced vehicle diagnosis and perform repairs with incredible precision and promptness. Not every independent repair shop has the equipment necessary to get your vehicle back on the road in tip-top shape. Technicians also have access to a broad range of technical data and service manuals for your specific vehicle.
The dealership technicians themselves are also factory-trained with extensive knowledge about your specific vehicle make and model. After all, who better to take care of your vehicle than people who know your vehicle inside and out? Dealership technicians also have access to manufacturer service manuals and other technical data. With such a deeper level of knowledge on hand, dealership technicians can take care of any issue affecting your vehicle. In comparison, most independent technicians only have general knowledge of your vehicle and others.
If you want fast service for routine services like oil changes and air filter replacements, there's no better place than a dealership. Smaller auto repair shops may only have two or three service bays for routine work, which means it could take hours or even days to have your vehicle checked out by a mechanic. Compared to local shops, dealerships have the space to take on any type of repair. Some dealers even have service bays specifically for express lube services, meaning you'll get in and out in record time.
When the time comes to have warranty work performed on your vehicle, you're better off having it done at the dealership. You're less likely to pay out-of-pocket for any expenses when you're having basic maintenance or warranty-related work done on your vehicle. Most dealerships also stand behind their work with an extended warranty — something you won't find at a typical independent repair shop.
Dealerships also keep up with the latest recalls and technical service bulletins, which are often harder or more time-consuming for independent repair shops to access and follow. These special alerts can mean the difference between driving a reliable, worry-free vehicle and one that may require extensive safety or performance repairs.
Another benefit of servicing your vehicle at a dealership is access to high-quality parts. Independent repair shops tend to use aftermarket or third-party parts for the repairs. While it's a cost-saving measure that often benefits the customer, third-party parts can have fit, finish, and quality issues that can make repairs more difficult and even shorter-lived. To ensure your vehicle delivers the performance and reliability as envisioned by the manufacturer, dealerships use only Original Equipment Manufacturer or OEM parts in their repairs. You won't find any surprises with OEM parts since they are designed to the exact dimensions and specifications as the parts your vehicle originally came with. This gives you greater peace of mind when it comes to the quality of your vehicle repair.
You'll also find a higher level of customer service when you bring your vehicle to a dealership for service. Larger facilities give dealerships more space for service bays, ensuring faster turnaround times for most service jobs. There's also more space for unique vehicle services, including "express" lube and tire services and an on-site collision repair center.
Customers also have access to larger and more comfortable accommodations, including a larger waiting room with more comfortable chairs and an assortment of complimentary snacks and drinks. Dealerships also offer cleaner restrooms and welcomed extras like Wi-Fi connectivity.